Fuel Efficiency and Performance Specifications of the 2017 Honda CR-V
An All-New Engine in the CR-V
Depending on which trim level you choose, the 2017 Honda CR-V comes equipped with one of two primary engines. Some drivers, tempted by the affordability of the CR-V LX, will receive a 2.4-L 4-cylinder engine that utilizes natural aspiration and direct fuel injection. Even with this engine equipped, the CR-V's fuel economy and performance specifications are perfectly respectable. This CR-V engine can provide an EPA-estimated 26 mpg in the city and 32 mpg on the highway.** Mileage ratings will be slightly lower for drivers who opt for AWD instead of 2WD, and we'll cover the differences between these two options in detail below. Like every CR-V, the LX comes standard with a continuously variable transmission, integrated EcoAssist technology, and a drive-by-wire throttle system.
One of the most far-reaching changes in this year's CR-V is the inclusion, in its EX, EX-L, and Touring models, of a 1.5L turbocharged 4-cylinder engine. This feature replaces the engine described above, and despite its smaller displacement, provides greater horsepower and superior fuel economy relative to its 2.4L counterpart. The CR-V's 1.5L engine gets 190 hp where the 2.4L option offers 184 hp, and what's more, the former engine achieves its greater hp at lower RPMs. The difference between these models' gas mileage is even more pronounced. Once again, there are slight differences between 2WD and AWD models, but for now, it's enough to know that the CR-V's turbocharged engine can get up to an EPA-estimated 28 mpg city, 34 mpg highway, and 30 mpg in combined settings.** At the EX trim level, where this 1.5L turbocharged engine becomes a standard feature, drivers will also receive remote engine start functionality.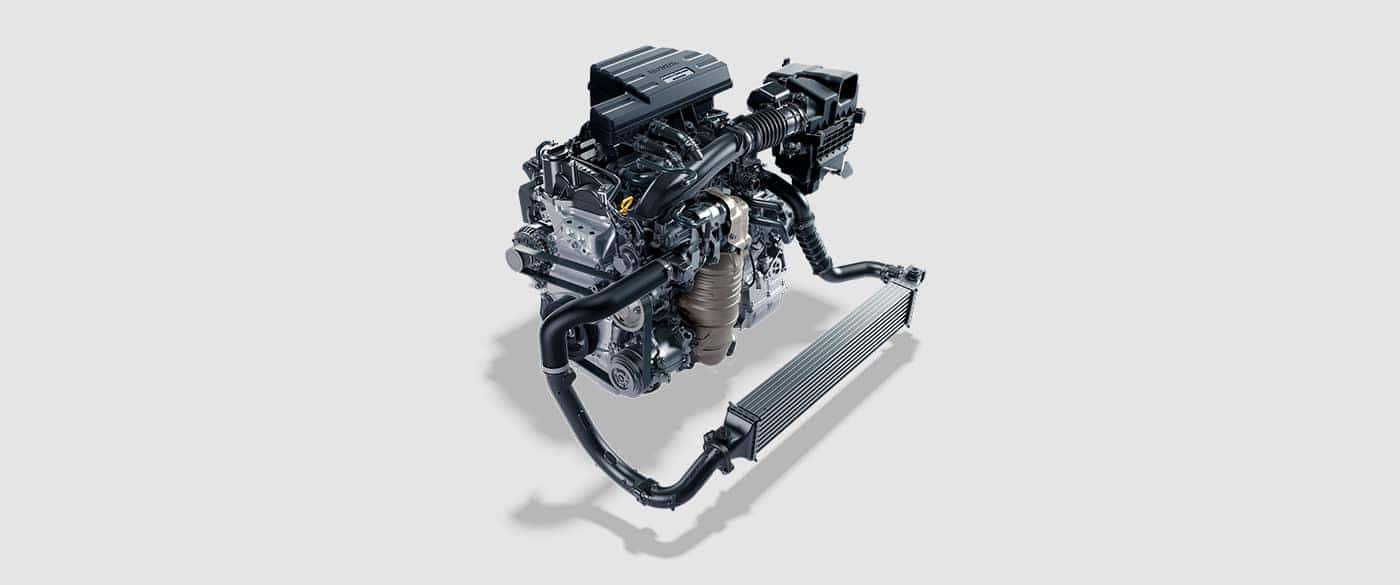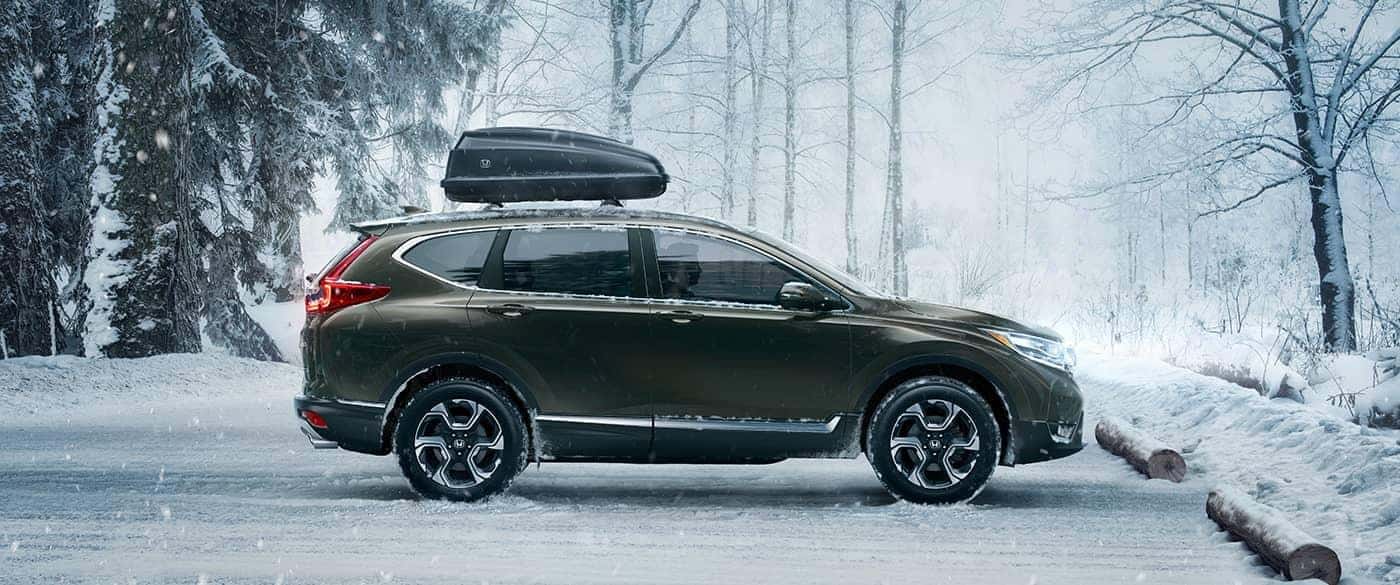 Best Option for New England Drivers: 2WD or AWD?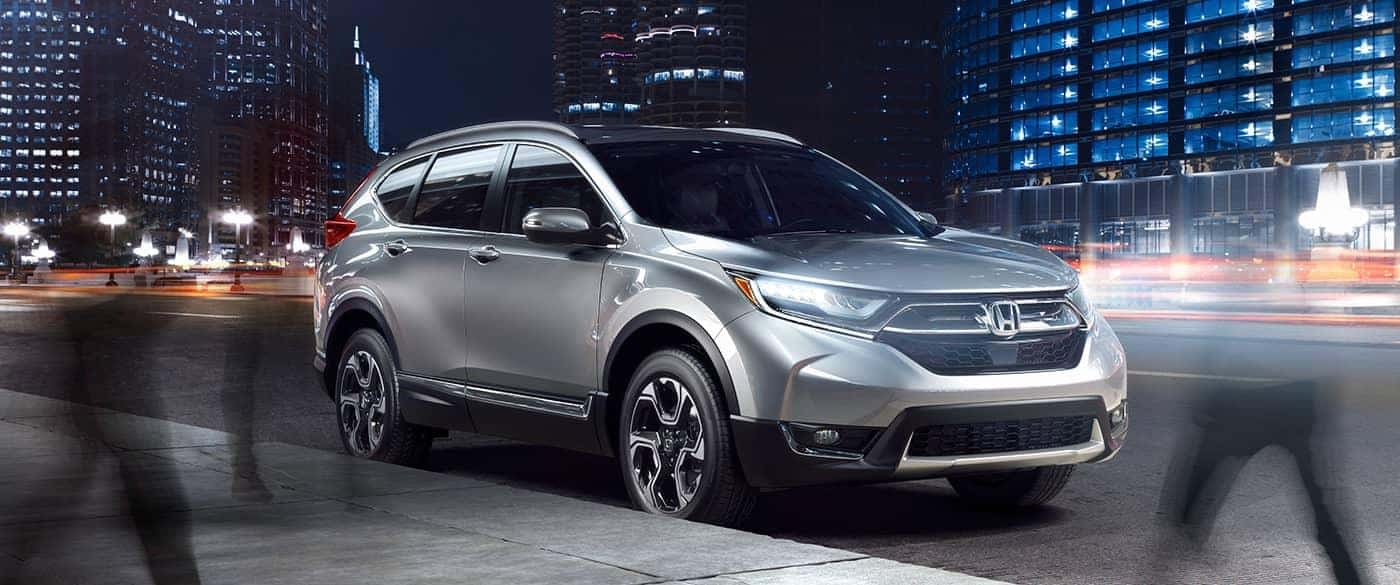 No matter which trim levels best suits your needs, you'll still need to choose between two-wheel drive and Real Time All-Wheel Drive with Intelligent Control. Before we compare the fuel economy offered by each drivetrain configuration, we should note that the Real Time AWD package comes complete with an Intelligent Control System. This feature allows the CR-V to adjust its behavior and power distribution in accordance with changing road conditions, before you ever start to slip or lose traction! We know how harrowing those New England winters can be, but they can be made much more manageable when you equip AWD.
Earlier we stated that drivers would get lower fuel economy with all-wheel drive than they would with 2WD, but in actual practice, these differences are minuscule, even negligible. In the CR-V LX, which comes equipped with a 2.4L engine, drivers who upgrade to all-wheel drive will still get an EPA-estimated 25 mpg city and 31 mpg highway.** In CR-V models that have been equipped with a turbocharged engine, AWD mileage ratings jump to an EPA-estimated 27 mpg city and 33 mpg highway.** What's more, AWD in turbocharged models is, in fact, more efficient than 2WD in LX models with traditional engines! By the numbers, Real Time AWD with Intelligent Control is clearly the preferable option, and this fact is certainly not lost on New England drivers.
**Based on 2017 EPA mileage ratings. Use for comparison purposes only. Your mileage will vary depending on how you drive and maintain your vehicle, driving conditions, and other factors.