2019 Honda Accord Cargo Space and Passenger Capacity
Honda Accord Seating Capacity
As
noted by Kelley Blue Book
: "The 2019 Honda Accord's 5-passenger interior is roomier than you might expect, especially in rear-seat legroom." Even filling all five seats, those in the front and rear will have plenty of space to stretch out, and that generous rear legroom means that adults can be just as comfortable in the back as kids.
Total passenger volume comes in at 105.6 cubic feet, and you and your passengers will enjoy the following dimensions:
Headroom: Up to 39.5 inches in the front and 37.3 in the rear.
Legroom: Up to 42.3 inches in the front and 40.4 in the rear.
ShoulderRoom: Up to 58.3 inches in the front and 56.6 in the rear.
Hiproom: Up to 55.3 inches in the front and 55 in the rear.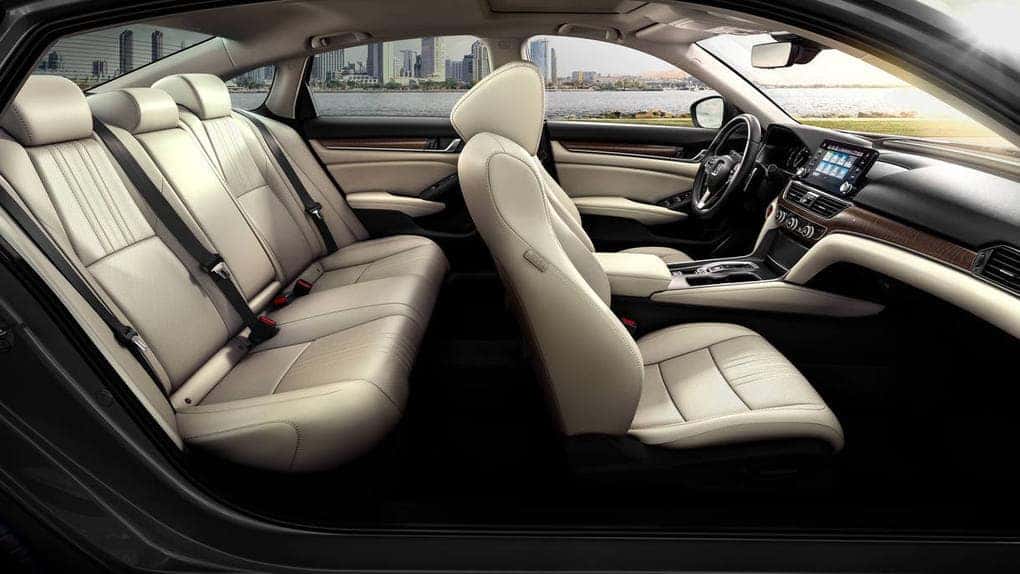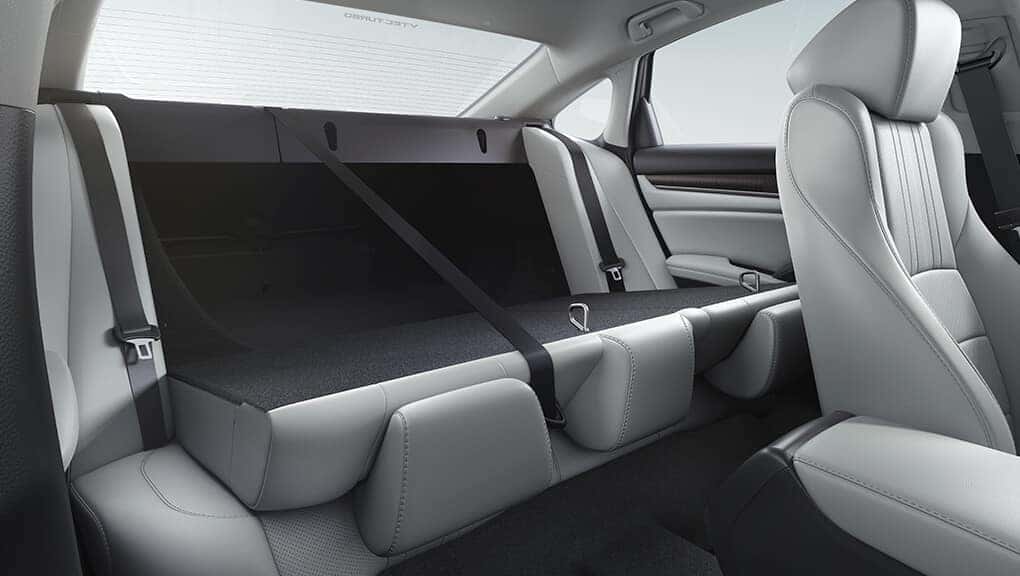 Honda Accord Cargo Volume
Too many drivers assume that midsize sedans can offer either plenty of passenger space or plenty of cargo space, but the Honda Accord challenges that idea by providing both. As summed up by Edmunds.com: "The Accord offers about as much utility as is possible for a sedan".
The trunk itself takes up to 16.7 cubic feet, a strong figure for this class. Just check out how it compares against rival midsize sedans:
Toyota Camry: Up to 15.1 cubic feet.
Mazda6: Up to 14.7 cubic feet.
Kia Optima: Up to 15.9 cubic feet.
Ford Fusion: Up to 16 cubic feet.
Chevy Malibu: Up to 15.8 cubic feet.
All models come as standard with a Fold-Down Rear Seat back with Center Armrest to ensure cargo space can be extended into the main cabin, and all models (save the entry-level LX) offer a 60/40 split that lets you fold down only part of the rear seat.
There's a handy cargo area light to help with organization, plus a wide selection of smaller storage solutions across the cabin:
Lockable Glove Compartment
Front and Rear Beverage Holders
Sunglasses Holder

Side Door Pockets

Driver-Side Seat back Pocket
Honda Accord Interior Accessories
The Honda Accord's roomy interior and flexible cargo options make it a top pick among sedan drivers, and they love the range of interior accessories available to improve convenience even further.
Options include:
Cargo Hooks: Hold shopping bags upright by their handles instead of having to pick spilled groceries up off the floor. Installation is simple, and you'll have three separate hangers per hook.
CargoNet: Keep your bags upright and hold loose or fragile items securely in place with this tight-fitting elastic cord net.
Cargo Organizer: Your sturdy canvas organizer stays rigid while up and collapses down easily when not in use. Several partitions divide up the space to keep different items separate and secure.
Trunk Drawer: Located just above the main cargo area, this convenient draw pulls out to provide additional storage that can be easily removed and replaced.
Trunk Mat – Carpet: Add an extra layer of protection over your cargo area using thick, heavy-duty carpet backed with resilient rubber. Dyed 16 oz nylon keeps colors from running and wear from affecting your cargo area.
Trunk Tray: Made from high-quality molded plastic, the Trunk Tray is rugged, durable, and perfect for protecting your cargo area. The textured surface prevents items shifting and sliding, and you can clean it easily with mild soap and water once you're back home.