Honda Civic Si Technology Provides a Driving Experience Like No Other
Comfort and Convenience Tech
Civic Si technology features don't focus solely on entertainment features. Technology throughout the vehicle spreads far and wide and works to enhance many aspects of the vehicle. One of these aspects is comfort and convenience. With a little help from some innovative technology, drivers and passengers of the Civic Si will enjoy luxurious levels of comfort. A glimpse into some of these features will reveal:
Dual-Zone Automatic Climate Control – This climate control system allows passengers to take control of their comfort by providing front passengers with their own individual climate control zones.
Push-Button Start – Wasting time looking through your purse, bag, or pocket for your keys when you're in a hurry isn't necessary anymore with the help of push-button start, which allows you to get your vehicle started with just a single button.
Electronic Remote Trunk Release – If you're headed back to your vehicle with an armful of groceries, this remote trunk release feature will allow you to seamlessly load them into your trunk without the need to physically use your keys.
HondaLink – The ultimate convenience feature, HondaLink lets you stay informed and in control of what's going on with your vehicle even when you're not near it.
Safety Tech
Another area where Civic Si technology plays a major role is in safety. To ensure that drivers, their passengers, and their belongings are well protected, Civic Si technology works to create top-of-the-line safety features. Some of these incredible, safety-enhancing tech features are as follows: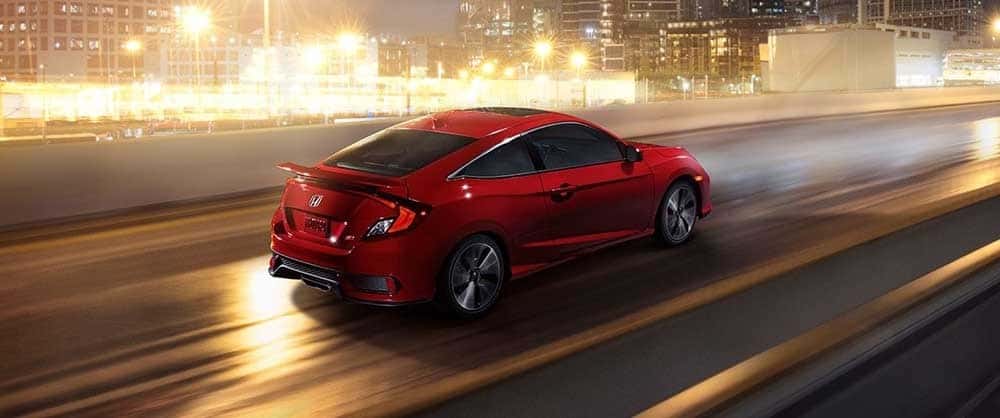 Multi-Angle Rearview Camera – By allowing drivers to see what's behind their vehicles from three different angles and helping them maneuver in reverse with dynamic guidelines, this technology increases safety and reduces accidents.
Tire Pressure Monitoring System – When your tire pressure is low, your vehicle is not performing at its true potential. To ensure that doesn't happen, this monitoring system will let you know when it's time for a refill.
Honda LaneWatch – When you signal to switch lanes, this intuitive feature will activate a side-mirror camera that will show you what's in the right-hand lane so you'll know if it's safe to merge.
Speed-Sensitive Volume Control – Blast your music and enjoy every beat, but with this system you can also ensure that you're alert to your surroundings by automatically adjusting the volume depending on the speed you're driving.
Audio and Connectivity Tech
Of course, the main place we expect to see high-tech features in action are in the audio, connectivity, and entertainment departments of a vehicle like the Civic Si. This vehicle delivers on that expectation and provides drivers with more than a handful of fun and easy-to-use audio and connectivity features that are sure to enhance the driving experience. A few of these features include:
Bluetooth HandsFreeLink – Hands-free accessibility is what this feature is all about, allowing you to make phone calls without taking your eyes off the road.
Apple CarPlay and Android Auto – These features connect with your smartphone, so you can tap into your favorite music and apps without having to physically control your device.
7-Inch Display Audio – Equipped with a high-resolution electrostatic touchscreen and customizable feature settings, this command center will ensure you can easily see and control your apps.
SMS Text Message Function – Voice-recognition technology helps this system compose, send, and receive text messages while keeping you and your passengers safe.
SiriusXM and Pandora Radio – The Honda Civic Si is also compatible with SiriusXM and Pandora Radio to give drivers more listening options.